Nari Shokti

Workshops, Performances and Street Parade in Dhaka, Bangladesh.
In collaboration with Paraa Bangaldesh. (2018)
Many thanks to:
Prachyanat Theatre, Shadhona Dance, Goethe Institut Dhaka and BMEGA
BUFT. With further material support from Hamid Fabrics.
Funded by British Council.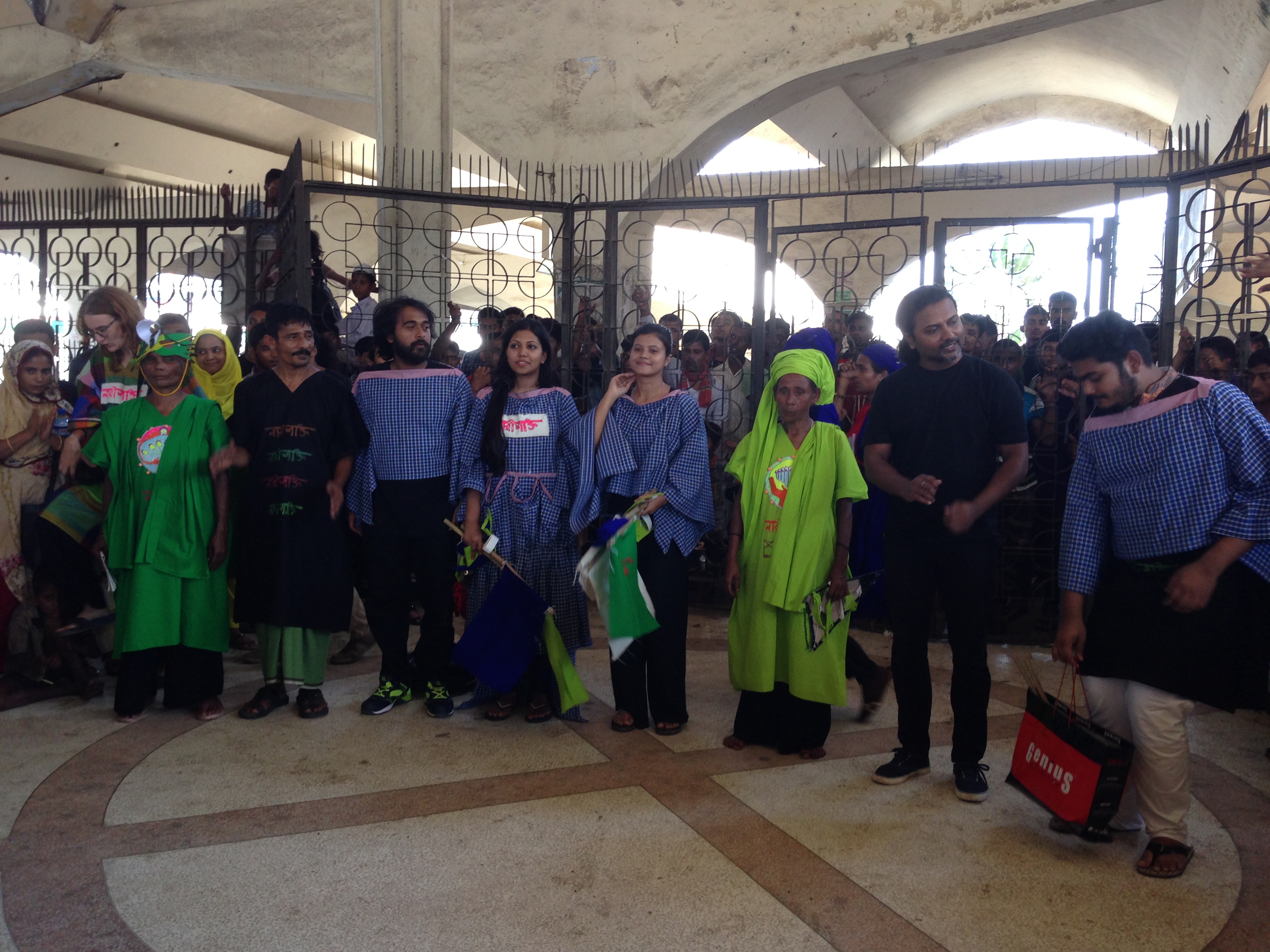 Nari Shokti reflects on the role and social situation of women in Dhaka, aiming to engage with the public
through a parade to perform characters and stories developed by participants in a series of collaborative workshops. Nari Shokti – Bengali for 'strong women' reacts to the Sufragettes' 100 year anniversary in the UK and takes its starting point in looking at Bangladesh's economic powerhouse – the ready made garments industry. Ten characters and enacted stories present fierce women who challenge and redefine the female identity despite facing crisis, loss and maltreatments – succeeding in their very own way.
The characters were developed together with workers from the factories, students and actors and build their narrative on the stories of the women who participated. Using fiction as a means to detach, empower and narrate alternatives, achorus of costumes, masks and performances were presented by garment workers, young dancers, women living in and around Kamalapur station, actors from Prachyanat theatre and students from BGMEA-BUFT University across four public sites in Dhaka.
Nari Shokti vocalises complex stories of strong women who are part of the Bangladesh Fashion Industry. The workshops were designed to build bridges between 10 year-two fashion design students from BUFT Univeristy Dhaka, 13 garment-factory workers, 10 professional actors from Prachyanat Theatre, 3 pavement dwellers from Kamalapur Station; totalling a number of over 50 people involved in the production of the 4 street performances that took place in various places in Dhaka. In the wake of student protests and an upcoming general election, navigating the charged political situation was not always easy.
Central to this project was the role of design, and having a critical international reading of the local context, not neglecting the importance of the RMG sector in Bangladesh as a continued phenomena. Design and the creative approach that gave narratives to the women and students, as well as the potential for further dialogue about the people involved in making, producing and living in and around these factories.
What we achieved was a bringing together of groups of people that share similar histories, narrating their stories and vocalising shared experiences of womanhood in Bangladesh. The project recontextualised fashion design to facilitate these collaborations and exchanges. Nari Shokti is as much a comment as it is a celebration on the role of the Bangla woman.